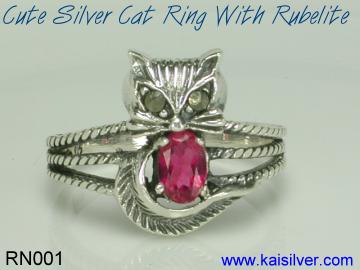 There are some awesome reasons why women, girls and even men love the graceful feline creature. Cats are quiet, they symbolize cleanliness and really don't call for much attention and fuss. So what should you gift a cat lover, a mug in the shape of a cat, a book about caring for cats,  some delicious feline cuisine, a bell and not forgetting – cat jewelry.  The cat ring from Kaisilver, was first introduced on the Ebay channel way back in 2001. Sales soared and it soon became clear that, animal and cat lovers could just not have enough of this adorable creature.
We then came off the auction channel and featured the gold and silver cat ring on our websites.  This move gave us more scope to explain and display the ring, buyers felt more comfortable working directly with your team. And the fact that each cat ring is fully custom made means that, you can request for design modifications and choose your favorite gem for the ring.
As an example, if you plan to gift a cat ring crafted in gold or 925 silver to someone who loves cats, you could request for their birthstone to be set in the ring. Gifting a jewel with a special gem like a birthstone to someone means that, you really cared to make that personal and unique. The silver cat ring is just as cute and well crafted as the gold version, so you need not strain your budget to accommodate a gold ring.
And while you are in the process of selecting a cat ring, make sure that you do not end up with a flimsy piece. The ring could bend and go out of shape, the gemstone could drop off – there is no end to the hassles and worry that such a ring can cause. Kaisilver cat rings are made with optimized metal weight, superior workmanship and authentic custom cut gemstones. These rings are not cheap but, offer excellent value for money paid.
We have a regular client from Tokyo, this wonderful lady wears a Kaisilver cat ring on most of her fingers. It is a great idea to build a collection of silver or gold cat rings, with various colored gemstones. We can accommodate requests for all ring sizes, it is also possible to craft the ring with a larger gemstone.
How To Buy: We invite you to review the full Kaisilver Cat Ring Report, discuss your requirements with the support team at sales@kaisilver.com We place no restriction on your choice for gemstones, you can pick gold or 925 silver. And if you have any cat ring design in mind, send us a sketch or image and we will gladly custom make it for you. We craft all types of jewelry and maintain, the same superior standards for both gold and 925 silver jewelry pieces.