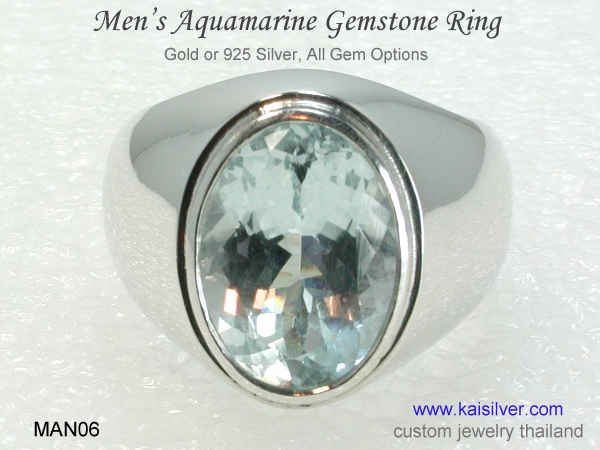 Click For Pricing And Options For The MAN06 Ring
Men prefer to wear rings with a large format, these big rings can pose a challenge when the requirement is for big gemstones. Most of you would be aware that the per carat price of a gem increases sharply as the gemstone size moves up. The MAN06 custom aquamarine men's ring from Kaisilver, has some awesome features. This is a big ring, the gemstone is an oval aquamarine, the oval gemstone has a size of 12x10mm.
When choosing a large men's ring, keep in mind that durability can often pose a challenge. Most jewelers craft big jewels with insufficient metal weight, the effects of this can be felt in the long term. The MAN06 men's aquamarine ring is crafted with a minimum metal weight of 20-25 grams. This ensures that the ring has sufficient metal thickness, the possibility of this ring being deformed and dented by normal usage is highly unlikely.
You can choose a 12x10mm oval aquamarine gemstone for your men's gold or sterling silver ring.  This is a large gem by any standards, the stone forms the focal point of interest and it imparts a stylish and confident look to the ring. Aquamarine is a variety of beryl, it is durable and sturdy and happens to be the birthstone for the month of March.
When choosing the metal color for your men's aquamarine gemstone ring, make sure that you understand the color contrast that the metal can deliver.  Aquamarine is a relatively light colored gem, the term 'pastel blue' better describes the color of the gemstone.  A white gold aquamarine ring, allows the gemstone to perfectly flaunt its color extremely well. Metals like white gold and sterling silver, cast no color tone on the gemstones set in them. On the other hand if you had to pick yellow or pink gold, the metal would cast a hue on the stone.
The ring is designed and crafted to be suitable for just about any occasion. You could wear your MAN06 aquamarine men's ring everyday to work, it would look equally good when worn for a formal occasion. Kaisilver crafts a significant number of men's aquamarine wedding rings each year, ancient traditions might be playing a role here. Crystal healers often recommend wearing an aquamarine ring to resolve conflicts and misunderstandings at home. The demand for aquamarine for wedding rings is probably drive by this belief.
Kasilver can custom make a men's aquamarine ring with your own design. Just email us a sketch or image at sales@kaisilver.com and we will get back to you with a price quote. You could review our Men's Ring Collection and request for, any of the rings to be made with an aquamarine gemstone. Each ring is fully custom made, design modifications can be done to personalize a ring for you.