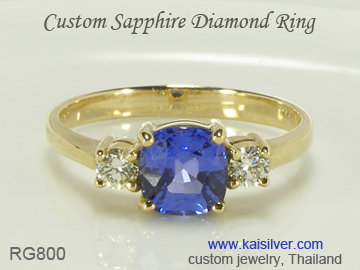 While we keep boastinabout the celebrity status of blue sapphire, the fact is that the gem has gradually moved beyond most budgets. Sapphire is a rare gem that is a favorite for wedding and engagement rings. Talk to any jewelry house about a sapphire diamond engagement ring and they would, expect you to spend at least 5,000 U.S$ or more for that jewel. And if you do manage to get a lower priced ring, you will be expected to accept a bag full of compromises. Kaisilver introduces you to a fine sapphire diamond ring, a jewel that is priced very modestly but perfect even for formal wear as an engagement ring.
The RG800 adorns a gorgeous natural, certified 6mm cushion blue sapphire gemstone. The gemstone dimensions were selected for a very special reason.  When flanked with a 2.5mm – 3mm diamond on either side, the gemstone gets an added dose of luxury. And the diamonds end up being very near to half the gemstone size. Wear this diamond sapphire ring and you will experience luxury at a surprisingly reasonable price.
The ring is sturdy and tough without being bulky or clumsy. The ring is crafted in solid gold or 925 silver, there is no effort to save metal and no scooping inside the band. Four sturdy prongs hold the sapphire gemstone in place. A perfect jewel to own and pass on as an heirloom family jewel. The jewel will take very little on your part to keep its condition and form for many decades.
It had been presumed for many centuries that, all sapphires are blue. Interestingly many blue gems that were not actually sapphires, were referred to as sapphire too. Kaisilver custom makes every single diamond sapphire ring, you can therefore request for design modifications to suit your liking. It is possible to order a gold or silver sapphire diamond ring with a blue, white, pink, yellow, orange or green sapphire gemstone. The same design concept can be retained for a larger gem or a gemstone with a different shape.
When picking a sapphire diamond gold ring, open up to the gold colors available to you. Kaisilver allows you to pick 14k or 18k gold in white, yellow or pink gold. Most of us are familiar with yellow or white gold sapphire gemstone rings but, pink gold is surely worth a try. If you happen to be buying a sapphire diamond ring to mark an engagement or wedding, you might have to consider the entire attire for the big day, before picking the gold color.
The surge in the demand for silver engagement rings has been nothing short of impressive. Kaisilver remains the preferred source for both gold and silver engagement rings. Few jewelers if any, can match our quality standards for both metals. Your sterling silver diamond and sapphire ring, will have the same quality standards as its gold counterpart. No compromise in workmanship or gemstone quality is made for the silver ring.
We have more details about this sapphire ring in the RG800 Kaisilver Sapphire Ring Report, take some time to review the information. The support team at sales@kaisilver.com will be glad to answer any queries or requirements that you might have. We can also craft your sapphire ring based on a design concept provided by you.